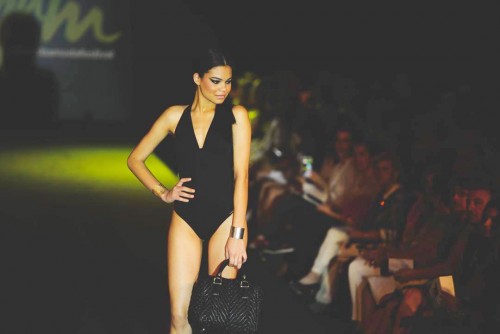 Amaia Txabarria es una prestigiosa Diseñadora de Baño y Lencería con una trayectoria profesional de más de 20 años. Se encuentra en la c/ Fuenterrabia 17 de Donostia – San Sebastián. Pertenece a una generación familiar de mujeres que han trabajado el patronaje en este sector de moda. Sigue las tendencias, aunque también se inspira en épocas pasadas como la Dolce Vita. Cada temporada elige los tejidos que podremos ver en su escaparate y en los diferentes desfiles de moda donde desfilan las misses más relevantes con sus colecciones. Amaia Txabarria de forma altruista está implicada con el Cáncer de Mama. Recientemente celebró una conferencia en Fomento San Sebastián donde explicó sabios consejos sobre la evolución del diseño, confección y producción de la ropa interior para lograr el ajuste correcto tras una intervención de cirugía.
Amaia Txabarria is a prestigious swimsuit and lingerie designer with a career of more than 20 years. She belongs to a generation of women who have worked hard in this fashion industry. She follows trends, but she is also inspired by past times, as la Dolce Vita. Every season she chooses new fabrics that we can see in her showcase and in different fashion shows where the most relevant misses expose her collections. Amaia Txabarria is altruistically involved with the fight against Breast Cancer. She recently held a Conference in promoting San Sebastian where she explained the evolution of their design, preparation and production of underwear for the correct fit after surgery.
Amaia Txabarria est une prestigieuse styliste de maillots de bain et de lingerie avec une trajectoire professionnelle de plus de 20 ans. Elle appartient à une génération familiale de femmes qui ont travaillé dans le patronage dans le secteur mode. Elle suit les tendances, mais s'inspire également des époques passées comme la Dolce Vita. Chaque saison elle choisit les tissus que l'on voit dans la fenêtre du magasin et dans les différents défilés de mode où les plus belles miss défilent avec ses collections. Amaia Txabarria est impliqué de forme altruiste avec le Cancer du Sein. Récemment, elle tint une conférence de Promotion San Sebastián où elle expliqua de sages conseils sur l'évolution de la conception, la fabrication et production de sous-vêtements pour atteindre le réglage correct après l'intervention chirurgicale.
En su Tienda de Fuenterrabía 17 de Donostia-San Sebastián encontramos la lencería y ropa de baño que mejor se ajusta a cada persona, y te ofrecen la oportunidad de personalizar las prendas de baño a gusto de cada uno. Dispone de una gran variedad de tallas y copas de la B a la F.
In their shop at Fuenterrabia 17 of Donostia-San Sebastián you will find the lingerie and swimwear that best fits each person, and offer you the opportunity to customize bath clothes to everyone's taste. It has a wide variety of sizes and the B to F cups.

Dans sa boutique Fuenterrabia 17 à Donostia-San Sebastián vous pouvez trouver la lingerie et maillots de bain qui conviennent le mieux à chaque personne. Ils offrent aussi la possibilité de personnaliser les maillots de bain, pour que tout soit au goût de tout le monde. Ils disposent d'une grande variété de tailles et de bonnets de B à F.
Amaia Txabarria no sólo diseña para mujeres si no también para niños y jóvenes, e incluso hace alguna incursión en la colección de chicos. En sus inicios fue becada en Düsseldorf, centro económico de Alemania Occidental, donde se encuentra la academia de Bellas Artes más antigua de Europa y donde amplió los conocimientos y consiguió esa destreza que actualmente realiza en su oficio.
Amaia Txabarria for women but also for children and young people, and even makes a foray into the masculine collection. In its early days she received a scholarship in Düsseldorf, the economic center of West Germany, the city Europe's oldest Academy of fine arts.

Amaia Txabarria non seulement fait des conceptions pour les femmes, mais aussi pour les enfants et les jeunes, même quelques fois el fait également pour les hommes. Au début de sa profession, Amaia Txabarria eu une bourse d'études à Düsseldorf, centre économique d'Allemagne Occidental, où se trouve l'académie des Beaux-Arts plus ancienne d'Europe et où elle approfondit ses connaissances et a obtenu les compétences qu'elle possède actuellement.

Amaia Txabarria crea y personaliza su Ropa de Baño. Además de los bikinis y de los bañadores tradicionales, propone el tankini, un elemento que embellece e interesante para disimular algunos "kilitos" de más en la zona intermedia; o el trikini; una estupenda prenda ideal para las niñas que empiezan a ser un poco más coquetas.
Amaia Txabarria creates and customizes your beach clothes. Besides the bikinis and traditional bathing suits, she proposes the tankini, something that beautifies and disguises some "pounds"; or the trikini;a great ideal garment for girls who are starting to be a bit more flirty.
Amaia Txabarria crée et personnalise ses maillots de bain. En plus des bikinis et maillots de bain traditionnels, el propose le tankini, un élément qui embellit et qui est intéressant pour dissimuler quelques Kilos en trop dans la zone intermédiaire; ou le trikini, idéal pour les filles qui commencent à être déjà un peu coquettes.
Desde su Atelier Amaia Txabarria vende no sólo para San Sebastián, si no para tantos pedidos que se pueden solicitar desde otras ciudades del mundo.
From her Atelier Amaia Txabarria sells not only for San Sebastián, but also other cities around the world.
Depuis son Atelier Amaia Txabarria, elle vend non seulement pour San Sebastián, mais pour beaucoup d'autres demandes qui peuvent provenir d'autres villes.
El Horario de la Tienda de Amaia Txabarria es el siguiente:
De Lunes a Sábado: 10:30h-13:30h/16:30h-20:00h
The Opening hours of the shop of Amaia Txabarria is as follows:
Monday to Saturday: 10:30 h – 13:30 h/16:30 h – 20:00 h
Horaire du magasin d'Amaia Txabarria est le suivant:
Lundi à Samedi: 10:30h – 13:30h/16:30h – 20:00h
Contacto
Amaia Txabarria
c/ Hondarribia 17
c/ Fuenterrabia nº 17
20005 Donostia – San Sebastián
Tel: 943 466 494
Email: amaia_txabarria@hotmail.com