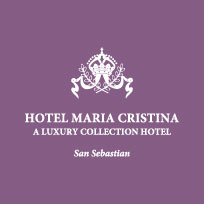 Desde su apertura en 1912, el Hotel Maria Cristina, ubicado en el corazón de la ciudad junto al río Urumea, ha estado estrechamente ligado a la cultura e historia de San Sebastián ( Pais Vasco ). El imponente interior del hotel al estilo Belle Époque destaca por sus altísimas columnas, retratos impresionistas del siglo XIX, brocados de seda y gloriosos candelabros, que convierten una estancia en el hotel en una experiencia verdaderamente opulenta. La reconocida mundialmente gastronomía vasca, junto con otras delicias culinarias, atraen a los huéspedes a los espacios de restauración del hotel.
https://www.santelmomuseoa.eus/uploads/Colecciones/Ciudad-en-la-coleccion/Hotel-Maria-Cristina-1g.jpg
Since its opening in 1912 the Hotel Maria Cristina, located in the centre of the city besides the Urumea river, has been strongly connected to the culture and history of San Sebastián. The luxurious inside of the hotel, imitating the style of the Belle Époque, is distinguished by its high columns, its paintings of the 19th century and its classic chandeliers make your time in the hotel a memorable experience. The worldwide known basque gastronomy attracts hosts to the restaurants of the hotel.
Depuis son ouverture en 1912, le récemment renouvelé Hôtel María Cristina, localisé au centre de la cité, à côté du fleuve Urumea, a été fortement connecté à la culture et histoire de San Sébastien (Pays Basque). L'intérieur impressionnant de l'hôtel au style de la Belle Époque se fait remarquable par ses hautes colonnes, ses portraits impressionnistes du siècle XIX, ses brocarts en soie et ses candélabres classiques, qui font d'un séjour à l'hôtel, une expérience vraiment opulente. La mondialement connue gastronomie basque, en même temps que d'autres délices culinaires, attirent aux clients aux espaces de restauration de l'hôtel.
Los viajeros de negocios pueden elegir entre cuatro suntuosos salones equipados con las máximas comodidades y la última tecnología. Desde la inauguración del Festival de Cine de San Sebastián en 1953, el Hotel Maria Cristina se ha convertido en el punto de encuentro preferido de las estrellas, y ha atraído a nombres tan legendarios como Elizabeth Taylor, Bette Davis, Woody Allen y Brad Pitt.
The business travelers can choose between four magnificent lounges equipped with all the facilities to make it as comfortable as you wish. Since the start of the San Sebastián International Film Festival in 1953, the Hotel Maria Cristina has become one of the principal meeting points of the celebrities, like Elizabeth Taylor, Bette Davis, Woody Allen and Brad Pitt.
Les voyageurs d'affaires peuvent choisir entre quatre salles somptueuses équipées avec les principales commodités et la dernière technologie. Depuis l'inauguration du Festival de Cinéma de San Sébastien en 1953, l'Hôtel María Cristina est devenu le point de rencontre préféré des célébrités, et a attiré l'attention de personnes comme Elizabeth Taylor, Bette Davis, Woody Allen et Brad Pitt.
Disfrute del arte de la hospitalidad a gran escala en las habitaciones y suites del hotel. Decoradas en sofisticados tonos grises y blancos, las habitaciones del Maria Cristina son un oasis de lujo y relajación.  Estilo, elegancia, moderna tecnología y una deslumbrante variedad de servicios se combinan para hacer de su estancia una experiencia inolvidable. En una ciudad donde la alta cocina es una de las principales atracciones, el Hotel María Cristina está a la vanguardia en proveer de espacios de restauración exquisitos donde descubrir la alta cocina vasca e internacional.
Enjoy the art of hospitality in the bedrooms and suites of the hotels. Decorated with sophisticated white and gray tones, the bedrooms in Maria Cristina are an oasis of relax. Style, elegance, technology and a variety of services combine to make your visit fantastic. n a city where the expert cuisine is one of the principal attractions, the Hotel Maria Cristina has de labor of providing exquisite dining rooms where you will discover the hight basque and international cuisine.
Profitez de l'art de l'hospitalité à grande échelle dans les pièces et suites de l'hôtel. Décorées dans des tons sophistiqués gris et blancs, les pièces de María Cristina sont un oasis de lux et relaxation. Style, élégance, technologie moderne et une variété éblouissante de services se combinent pour faire du séjour une expérience inoubliable. Dans une cité où la haute cuisine est une des principales attractions, l'Hôtel María Cristina est à l'avant-garde en fournir des établissements de restauration exquis où découvrir la cuisine basque et internationale.
Comience un desayuno memorable en el restaurante Easo y continúe su viaje gastronómico en el Bar Dry San Sebastián, que ofrece una amplia selección de tapas locales y algunos tentempiés acompañados de  una amplia gama de bebidas de primera calidad.
Start a memorable breakfast in the Easo restaurant and continue your gastronomic journey in the bar Dry San Sebastián, that offers big variety of local «tapas» with snacks of a long list f first class drinks.
Commencez avec un petit-déjeuner mémorable au restaurant Easo et continuez son parcours gastronomique dans le Bar Dry San Sebastián, qui offre une ample sélection de "tapas" locales et quelques en-cas accompagnés d'une grande gamme de boissons de première qualité.
CONTACTO
Hotel María Cristina
Dirección
Paseo Republica Argentina, 4
San Sebastian E-20004
Teléfono:
+ (34) 943 437 600